Hosted & Organized by: Shitoryu Karate Canada & Shitoryu Karate Quebec
主催:糸東流空手カナダおよび糸東流空手ケベック
Gatineau sports centre
850 boulevard de la Gappe
Gatineau, Quebec
Telephone: 819-503-8500
http://www.gatineau.ca/page.asp?p=quoi_faire/centre_sportif
The Gatineau sports centre opened its doors in the spring of 2010 at the corner of boulevard de la Gappe and boulevard de la Cité, near the maison de la culture and the pavillon Félix-Leclerc du Cégep de l'Outaouais.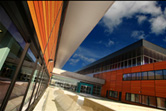 Its 18,500 square metres accommodate a number of sports, including volleyball, gymnastics, water polo, synchronized swimming, swimming, diving and underwater hockey. Its advanced sports and recreational equipment are available to the general public and to Gatineau athletes training for excellence.
Gymnasium
A 1,950 square-metre area (34 x 57 m, approximately 20,000 square feet)
A gymnasium consisting of three courts, each measuring 646 square metres (34 x 19 m), with solid removable dividers • Each court has its own scoreboard
A 9.5-metre high ceiling (high school gymnasiums are 7 to 7.5 metres high)
Two levels of lighting (550 and 1000 lux) • Permanent bleachers with seating for approximately 500 people
An integrated audio system
Safety nets for the bleachers
An opaque curtain that can be drawn across the window onto boulevard de la Gappe
Gatineau sports centre is located in the middle of Gatineau city, 8.6 km east of the Official Hotel with 10 minutes drive.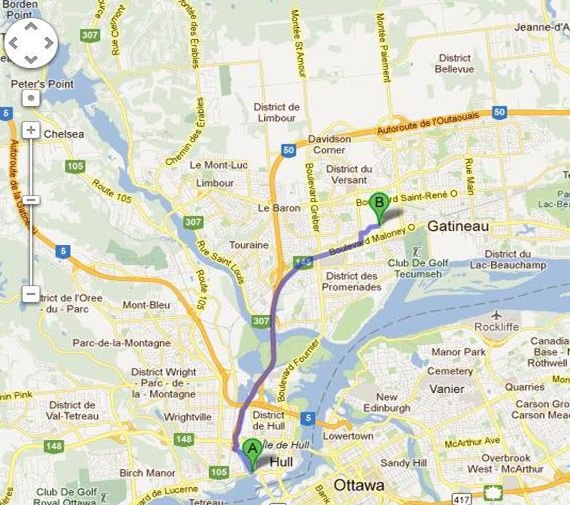 Map of Official Hotel and Championships Location
A Crowne Plaza Gatineau-Ottawa
B Gatineau Sports Centre